Laying of asphalt is currently ongoing on the Awba-Ofemmili axis of the Amansea-Ebenebe-Ugbenu-Ugbene -Awba-Ofemmili road.....CONTINUE READING
The twenty-six-kilometer road was a virgin land from part of Ebenebe to Awba-Ofemmili before the Governor Chukwuma Soludo administration came on board last year and awarded contract for the construction of the road.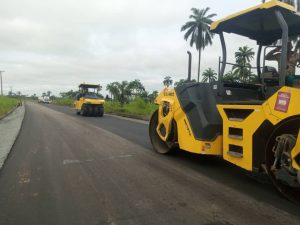 GELD construction company, the firm handling the project, has completed stone base on all parts of the road, fixed drainages on some parts where drainage is necessary and cast kebs on other parts, especially areas that have streams and rivers.
When ABS arrived at the site, it was observed that while asphalting commenced from the kilometer twenty-three of the road, priming was ongoing from the kilometer twenty-five; in readiness for asphalt.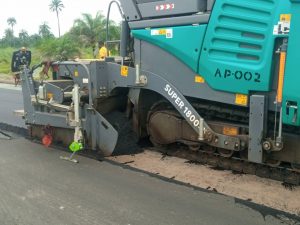 Speaking to the ABS, a resident of the community, Chinemeze Onwubunta, said they are forever grateful to Governor Soludo for what he is doing for them.
He said that they now have a lot of buyers who troop into the community to buy their farm produce and fishes which they fish from Okakwu river because of the access road.
Another indigene of the community and a farmer, Mr Casmir Obiora, said that they are making plans to confer the title of "Nwanne di na mba" on Governor Soludo for not abandoning them after his election.
Mr Obiora noted that people of the area are happy with the various interventions by Soludo administration for them, noting that they are now having values for the efforts they put into agriculture, praying God to bless the Governor.
The site supervisor, Engineer Slavisa Ivanovic, said they started asphalting the road seven days ago, and explained that they raised the road one point five meters above the ground to stop overflow of water on the road because of the terrain of the area.
He thanked the community members for their cooperation, even as he appreciated Governor Soludo for always giving them necessary support.
The twenty-six-kilometer road has box culverts and wing walls.